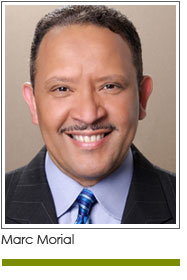 Our workforce and our entire economy are strongest when we embrace diversity to its fullest, and that means opening doors of opportunity to everyone and recognizing that the American Dream excludes no one." – U.S. Labor Secretary Thomas Perez

The issue of diversity with respect to corporate mergers usually is discussed as a potential drawback – the clash between cultures is sometimes cited as a reason such mergers fail.

Often, however, such mergers present an opportunity to expand ethnic and cultural diversity in the workplace and create economic opportunity. The recently-approved merger of AT&T and DirecTV requires the merged company to make available an affordable, low-priced standalone broadband service to low-income consumers in its broadband service aria. Furthermore, due to the strong advocacy of the National Urban League and other civil rights organizations, the merger extended AT&T's diversity strategic plan to DirecTV's hiring, procurement, programming and philanthropy.

Similarly, we worked with NBC Universal and Comcast on a groundbreaking memorandum of understanding to insure that the 2011 merger would provide for a variety of diversity initiatives, including establishing a $20 million venture capital fund boosting opportunities for minority entrepreneurs in digital media, eight new independently owned and operated networks offering substantial participation by minorities, the creation of Diversity Advisory Councils, and the increase of minority participation in news, public affairs programming and jobs.

There is, of course, the danger that a merger could work in the opposite direction. If the merger between pharmaceutical giants Pfizer and Allergan is completed, the merged company will be headquarter in – and pay its taxes to – Ireland. The deal allows Pfizer to take advantage of Ireland's tax rates while skirting U.S. rules aimed at curtailing tax inversions.

Will the loss of corporate tax revenue exacerbate income inequality in the United States or will it, as Pfizer's CEO insists, allow the company to create more jobs in the United States?

As the merger would create the world's largest drug manufacture, assurances on diversity – not just in hiring and procurement, but in research and development – could not be more vital and essential.

While Pfizer has provided some transparency about its employment diversity, supplier diversity track record and C-suite diversity, less is known about Allergan and very little is known or understood about whilch companies practices will survive once Pfizer becomes an Irish company.

The pending merger of The Dow Chemical Company and DuPont USA poses similar questions. Both Dow and DuPont have established effective diversity and inclusion policies, but unless an retention or expansion of those policies is a specific condition of the merger, it could represent a step backward.

In the rush to satisfy activist sharholders, the diversity policies that made these companies strong in the first place must not be overlooked or diminished. The National Urban League believes that diversity is in the public interest and a compelling 21st Century necessity. Regulators who oversee these companies must evaluate diversity and ask the tough questions and the National Urban League and other civil rights leadership organizations will do the same.


---
Marc Morial
is the president and CEO of the
National Urban League
.