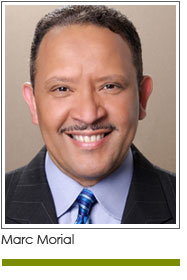 "Every setback has a major comeback. #GreaterIsComing." – Russell Wilson, Seattle Seahawks Quarterback, via Twitter (@DangeRussWilson)

Far be it from me to join the legions of Monday morning quarterbacks for a game that has been, and will be, dissected for days, weeks and years to come. But whatever one may think of the outcome of the Seattle Seahawks' decision to have QB Russell Wilson throw from the 1-yard line in Super Bowl XLIX's nail-biting, final seconds, it accomplished something more than sealing the fates of two championship teams. It shifted our attention from "DeflateGate" and pre-game sniffles to Wilson – where arguably much of the focus before the big game should have been considering that this 26-year-old from Richmond, Virginia stood on the precipice of both NFL and American history.

Initially tapped by the Seahawks as a 2012 third round draft pick, Wilson, with the presumed limitation of his 5-foot-11 inch frame, was an underrated prospect and an undervalued entity. However, he emerged from his first season as the 2012 NFL Rookie of the Year – with his 26 touchdown passes tying the NFL's single season record by a rookie set in 1998 by Peyton Manning and the Seahawks 8-0 record at home making Wilson the first rookie quarterback in the Super Bowl era to lead his team to an undefeated home record. By the 2013-14 season – only his second in the NFL, Wilson had led the Seahawks to the team's first-ever Super Bowl victory, making him only the second African American quarterback to win a Super Bowl (Doug Williams was the first in 1988) and cementing his standing as a new force in the NFL.

So, with a media landscape as vast and varied as ours, why was this story drowned out by so much less-worthy noise in the days leading to the Super Bowl?

Whether you prefer to call it "DeflateGate" or "Ballghazi," the allegation of underinflated balls is a serious one for the NFL to investigate. The act itself strikes at the very heart of the game and its obligation to fairness. But for a nation known for its love of feel-good, inspirational stories, putting a spotlight on Wilson's history-making rise could have been a reminder that cheating allegations do not define the pastime – and that "nice guys" are champions too. However, as many media chose to not focus on this angle, in the few words that I have here, I will.

Of course, there is more to Wilson than his prowess on the field. Last year, he launched "Pass the Peace," an initiative to raise awareness and money for victims of domestic violence through his "Why Not You Foundation." In an environment where the NFL remains under a cloud of scandal after a number of high-profile abuse cases, the story of Wilson's effort to help combat this insidious problem should be able to generate as much press interest as Marshawn Lynch's media stand-off or Patriots' QB Tom Brady's pre-Super Bowl cold.

If history had been on the side of the Seahawks, the national conversation the morning after the NFL's biggest game would have been about Wilson being the youngest starting quarterback ever to win two Super Bowls, the only one to win two Super Bowls in his first three seasons and the only Black quarterback to have more than one Super Bowl ring. Instead, many people are discussing an ill-fated pass that Wilson refuses to become his lasting legacy. Making his feelings clear on his Twitter account, he responded that "At 26 years old I won't allow 1 play or 1 moment define my career. I will keep evolving. #Motivation."

When Wilson was a teenager, his father, who died in 2010 from diabetes complications, would conduct mock interviews with him, asking him how he prepared for an imaginary Super Bowl in the future. This wasn't his first Super Bowl run – and I have a strong feeling it will not be his last. I believe Wilson will rise above the noise of the NFL and the media's silence both on-and-off-the-field and continue to make history.

The final-minute interception snatched a hard-fought victory from the Seahawks, but if Wilson's story speaks to us in volumes about anything, it tells us that defeat will never have the last word in his game called life.


---
Marc Morial
is the president and CEO of the
National Urban League
.