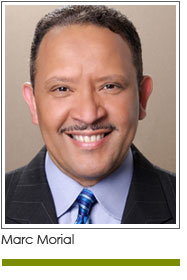 "It is better to be prepared for an opportunity and not have one than to have an opportunity and not be prepared." Whitney M. Young, Jr., National Urban League president, 1961-1971

We are in the final countdown to the kick-off of the 2014 National Urban League Conference, "One Nation Underemployed: Bridges to Jobs and Justice." After more than a year of planning and preparation, in less than two weeks, from July 23-26, more than 8,000 participants will convene in Cincinnati, Ohio at the Duke Energy Convention Center for four days of panels, workshops and networking sessions focused on the most pressing social, political and economic issues – and solutions – facing our communities and the nation. This year, we are excited to welcome Vice President Joe Biden to headline a dynamic roster of thought leaders, influencers, activists and supporters of the Urban League Movement who will bring a diverse range of ideas and insights. In addition to the Vice President's plenary speech, this year's conference will feature the President of the U.S. Conference of Mayors, Kevin Johnson, along with six other mayors, including Alvin Brown of Jacksonville, Florida and Michael Coleman of Columbus, Ohio. Additional speakers scheduled to appear include Rev. Al Sharpton, Walmart President and CEO William Simon, Kentucky Governor Steve Beshear, OH Senator Nina Turner and KY Senator Rand Paul. Academy Award winning actor and activist Forest Whitaker will receive a Living Legends Award at our annual Whitney M. Young, Jr. gala on July 26.

Our annual Youth Leadership Summit will bring together 350 young people for four days of rigorous college and career lessons, as well as leadership training. In addition, our Small Business Matters Entrepreneurship Summit will highlight strategies for starting a business and sustaining wealth, and our Women of Power Awards Luncheon will honor trailblazing women for their outstanding contribution in the areas of arts, politics, journalism, justice and sports and to women's empowerment. The conference will also include workshops and discussions on important issues such as the fight against voter suppression, the need to raise the minimum wage, affordable housing, and financial literacy. Accordingly, as we mark the 50th anniversary of the Civil Rights Act of 1964, the conference will feature panel discussions on both the celebration of a half-century of progress and the continuation of the unfinished business of equal opportunity in America.

Celebrating African American culture and music, on Thursday, July 24, the conference will showcase a star-studded advance screening of "Get On Up," the life-story of Godfather of Soul, James Brown, starring Chadwick Boseman, Nelsan Ellis, Viola Davis, Octavia Spencer, Dan Akroyd, Tika Sumpter and Jill Scott. On Friday, July 25, the Urban League Live White Party at the Macy's Music Festival will feature Charlie Wilson, Chaka Khan and Robin Thicke.

We are especially excited to bring this year's conference to Cincinnati and to partner with our Affiliate, the Urban League of Greater Cincinnati, which is making a notable impact in the local community. The city has experienced a sea-change in relations between the police and the community since the 2001 race riots which were sparked by a police shooting that killed an unarmed Black man. Sitting on the historic "borderland" between the north and the south, today Cincinnati has been transformed by a $2 billion investment in new infrastructure and is also home to the National Underground Railroad Freedom Center.

The "Queen City" is waiting to welcome the Urban League Movement for a conference that will empower attendees with unmatched professional, civic engagement, business development, and networking opportunities and energize them to continue our daily work to help realize the full potential of our great nation. We, along with our presenting sponsors – P&G, Toyota and Western & Southern Financial Group – hope to see you there. For more information visit: http://conf2014.iamempowered.com.


---
Marc Morial
is the president and CEO of the
National Urban League
.