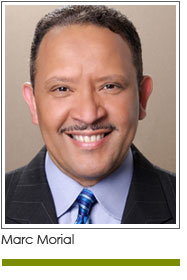 "We come together at this historic juncture to articulate our vision for those priorities that can—and must—drive economic recovery and rebirth not just for the African-American community, but also for urban communities and all low-income and working-class Americans," African American leaders Agenda for Black America

On Monday of this week, an historic gathering of 60 African American civil rights and social justice leaders came together in Washington to insist that as our elected leaders grapple with the daunting fiscal and social problems facing our country, the unique challenges facing our communities must be addressed. The meeting was convened by me as President and CEO of the National Urban League, along with Rev. Al Sharpton of the National Action Network, Ben Jealous of the NAACP, and Melanie Campbell of the National Coalition on Black Civic Participation. It resulted in a joint communique outlining five urgent priorities for the nation:


Achieve Economic Parity for African-Americans – Address the "fiscal cliff" and deficit reduction in a way that balances responsible spending reforms with protections for the safety net programs that are so vital to the most vulnerable among us. Deficit reduction should not sacrifice important investments in education, innovation, jobs and infrastructure and should include tax reform that levels the playing field

Promote Equity in Educational Opportunity – Institute progressive funding mechanisms that promote quality and direct more resources to those areas where the need is greatest – most often in high poverty and minority communities. We also call for a universal early childhood curriculum that prepares our youngsters to learn and achieve at a competitive level, more qualified and engaged teachers and increased investments in curricula and programs that prepare youth for the careers of the future, including science, technology, engineering and math. And we urge more support for HBCUs and community colleges as part of a comprehensive effort to remove the financial barriers that are keeping college out of reach for so many in our communities.

Protect and Defend Voting Rights – We pledge to vigorously oppose any effort by federal, state or local government to roll back the right to vote. We support election reforms, including the Voter Empowerment Act so that long lines at the polls will be the exception and not the rule. And we call on the Justice Department to mount an aggressive defense of the Voting Rights Act when it comes before the Supreme Court.

Promote a Healthier Nation by Eliminating Healthcare Disparities – We support full and timely implementation of the Affordable Care Act and believe that by providing access to quality and affordable health care for all, promoting community-based prevention efforts, and expanding Medicaid to our most vulnerable citizens, the ACA will play a pivotal role in reducing health disparities and the attendant costs to our economy.

Achieve Comprehensive Reform of the Criminal Justice System – We support the elimination of the cradle-to-prison pipeline, spurred in large part by the War on Drugs. We also call for greater efforts to end racial profiling, uniformity in school discipline and sentencing and the curtailment of the private prison industrial complex.

Our communique represents a first step in developing a public policy agenda that recognizes the continuing and disproportionate burden the Great Recession has placed on so many African Americans. I want to thank all those who participated. We pledge to continue to demand our seat at the table and make our voices heard.


---
Marc Morial
is the president and CEO of the
National Urban League
.