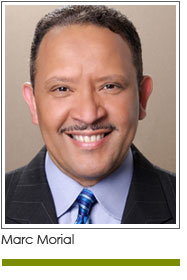 "Our mission is to support the National Urban League Movement through our volunteerism, philanthropy and membership development." National Urban League Young Professionals mission statement

My faith in the power and potential in our young people was renewed this past weekend as hundreds of African American high school students from around the country spent their Friday and Saturday participating in an annual Day of Service organized by the National Urban League Young Professionals (NULYP). This year, in partnership with the National Society of Black Engineers (NSBE), the NULYP launched STEMWORKS, an education and mentoring program designed to engage more African American youth in studying Science, Technology, Engineering and Math or the STEM disciplines.

Hundreds of students in St. Louis, Pittsburgh, San Diego, Austin and New Orleans were able to talk with experts in the field, participate in workshops and mingle with representatives from some of the nation's most innovative companies that depend on STEM-educated workers. I was inspired by the enthusiasm of the teens I met at New Orleans' Sophie B. Wright Charter School, where volunteers helped students create chemically powered robotic cars. The goal was to introduce and educate public school students in grades 9-12, about the impact, importance and earning power that the STEM disciplines have on the economy.

While STEM skills are essential to filling the high-tech jobs of the future, America is currently experiencing a shortage of STEM-educated workers. This is not only imperilling the nation's ability to compete and win in the global economy, it is causing good paying jobs to go unfilled simply because companies can't find the talent to do the job. According to Strauder C. Patton IV, of NSBE, "By 2020, our STEM workforce demand is predicted to increase by 20 percent." The National Urban League Young Professionals wants to make sure African American youth are prepared to fill that gap. NULYP President Brandi Richard said, "We want to guide young people into STEM fields by demystifying science and technology and showing them they can achieve in these areas."

The NULYP is an outgrowth of the National Urban League's commitment to developing new leaders. For more than 10 years now, NULYP has been helping prepare young people for leadership roles within the National Urban League, the civil rights movement and society-at-large. With 53 chapters nationwide, and a membership of approximately 4000 young professionals, ages 21-40, NULYP is the largest volunteer auxiliary of the Urban League Movement.

Through an infusion of youthful energy and new tools like Twitter and Facebook, these young leaders are making a big difference within our organization and throughout society. In addition to current NULYP president, Brandi Richard, two of our youngest affiliate presidents have their roots in NULYP. Nolan V. Rollins, President and CEO of the Urban League of Greater New Orleans is a past NULYP president; and Jonathan Peck, President and CEO of the Tucson Urban League, has been an Urban League and national youth leader for many years. We are also proud that newly elected Denver Mayor, Michael Hancock, got his start as a youth leader with the National Urban League. Mayor Hancock made history in 1999 when he became president of the Denver Urban League and the youngest Urban League President in America at the age of 29.

To find out more about NULYP visit www.nulyp.net.


---
Marc Morial
is the president and CEO of the
National Urban League
.