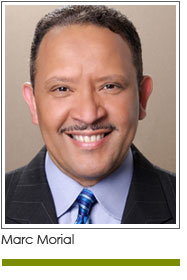 "Whether we're talking about jobs, education, or health care…Broadband is now a basic requirement to participate in the 21st century economy." Julius Genachowski, Chairman of the Federal Communications Commission

Somewhere in the United States today, a student is unable to finish his homework, a father will not be able to find a job and a mother will not be able to seek proper medical treatment. Today, broadband is a basic need and provides information that is vital to the quality of life and economic stability. Unfortunately one third of Americans remain unconnected and they are overwhelmingly people of color.

The paradox of the Digital Age is that while technology has the capacity to bring people together and connect people to information, it simultaneously presents the threat of deepening the divide between society's information "haves" and "have nots", often referred to as the digital divide.

This dilemma was highlighted in a recent Commerce Department report which found that "Broadband adoption rates varied substantially between different racial and ethnic groups, with 81% of Asian and 72% of White households having broadband Internet access, compared to only 55% and 57% of Black and Hispanic households." Major reasons for these disparities include lack of knowledge, the high cost of getting online, and the lack of an adequate computer. With so much of modern life tied to Internet access, these are barriers that must be overcome. As FCC Chairman Julius Genachowski recently put it, "Closing the digital divide is about achieving the basic American promise of opportunity for all."

The National Urban League has stepped up to meet this challenge in a big way. In 2010, we joined forces with the One Economy Corporation as part of a Broadband Opportunity Coalition (BBOC) focused on breaking down the barriers to people getting online and getting the information they need to improve their lives. The BBOC is comprised of other leading civil rights organizations, including the NAACP, National Council of La Raza, Asian American Justice Center, the League of United Latin American Citizens, the Joint Center for Political and Economic Studies, and the Minority Media and Telecommunications Council.

This effort is the outgrowth of efforts already underway by the non-profit One Economy Corporation. Since 2000, One Economy, under the leadership of Chairman Rey Ramsey, has been committed to ensuring that every person, regardless of income and location, can maximize the power of technology to improve the quality of his or her life and enter the economic mainstream. In April of last year, One Economy and the BBOC were awarded $28.5 million in federal stimulus funds to support that goal. We are supplementing the stimulus award with private sector matching support valued at $23 million for a total of $51.5 million.

This effort will bring broadband connections to 27,000 low income housing developments, promote digital literacy to 20 million people and offer digital mentoring for more than 235,000 at-risk youth. The National Urban League has also made the expansion of minority participation in the Information and Communications Technology Industry one of the pillars of our 12-point Jobs Rebuild America plan.

In his 2011 State of the Union Address, President Obama set the goal of enabling businesses to provide high-speed wireless services to at least 98 percent of all Americans within five years. We support that goal. Broadband access for all is essential to expanding opportunity, creating jobs, reducing our deficit and winning the future.


---
Marc Morial
is the president and CEO of the
National Urban League
.