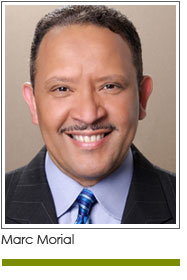 "Let us work not as colored people nor as white people for the narrow benefit of any group alone, but together, as American citizens, for the common good of our common city, our common country." Ruth Standish Baldwin, co-founder with George Edmund Haynes of the National Urban League in 1910.


Last week, as we have done for the past five decades, the National Urban League presented the Equal Opportunity Day Award – its highest commendation – to outstanding Americans who personify the League's mission and have been champions of equal opportunity, civil rights and social justice. Equal Opportunity Day is always a high point of the year for us – a chance to take a deep breath, celebrate our progress, and recognize the people and organizations that have supported us over the years. It is even more special when we have a chance to recognize someone who has been a part of our volunteer family for as long as the recipient of this year's Special Recognition Award, National Urban League board vice chair, Alma Arrington Brown.

In 1996, Alma Brown and her husband, Ronald H. Brown were one of Washington's most dynamic power couples. After years as a National Urban League official and success as Chairman of the Democratic National Committee, Ron had been appointed by President Clinton the first African American Secretary of Commerce. Alma was building a career of her own. She was well on her way to becoming senior vice president of Chevy Chase Bank while lending her talents to numerous local and national civic causes, including the National Urban League.

Ron's death in a tragic plane crash while on a trade mission to Croatia in April of 1996 changed everything. Alma's personal grief was shared by an African American community that was proud of Ron's rise from the hard streets of Harlem to the innermost circles of power in Washington. Her loss was also felt by a mourning nation that was coming to know her husband as a tireless champion of economic empowerment for all Americans. But instead of allowing herself to be broken by the tragedy, Alma Arrington Brown, realized that it was now up to her to uphold Ron's legacy and to inspire their children, Tracey and Michael, by redoubling her own commitment to equal opportunity and social justice.

In addition to her day job as senior vice president of Chevy Chase Bank, she serves as Vice Chairman of the National Urban League board and has become a national leader in public and community service. Alma Brown has been a program specialist with the National Black Child Development Institute, program director of the National Council of Negro Women and Director of the Office of International Business. She has hosted her own public affairs show on Washington's WKYS-FM and remains active in the United Negro College Fund and the Girl Scouts of America. She has also worked to get more progressive African American women elected to public office and has supported efforts to end domestic violence. She established the Ronald H. Brown Foundation and the Ron Brown Scholars Program in honor of her late husband. Their son, Michael Brown, is a member of the City Council of Washington, D.C., and their daughter, Tracy Brown, is an attorney with the Cochran Firm. The next generation of the Brown familly are following in the family tradition and making their marks in the legal and political worlds.

A graduate of Fisk University, Alma Brown credits her success to the closeness of family and the values of empowerment and self-sufficiency that were instilled in her by her mother and that she shared with her husband, Ron Brown. It was a great honor for me, on November 16th, to present the National Urban League 2011 Equal Opportunity Day – Special Recognition Award to Alma Arrington Brown.


---
Marc Morial is the president and CEO of the
National Urban League
.