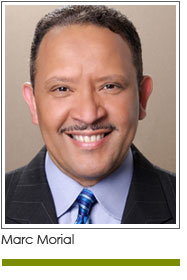 "The hardest work in the world is being out of work" former National Urban League President, Whitney M. Young

Last week, we took the National Urban League's 12-point jobs plan on the road with a visit to four cities in Indiana – Indianapolis, Gary, Anderson and Fort Wayne. At each stop, I met with people who are looking for answers to the persistent jobs crisis that has hit urban America especially hard and has resulted in a 9.5 percent unemployment rate in Indiana.

My visit put a human face on the mind-numbing statistics of the current jobless recovery. I will be making other jobs tours in the coming months and I advise those in Washington who have responsibility for job creation to do likewise. There is nothing like seeing the effects of this crisis up close.

In Fort Wayne, I met out-of-work factory workers who have never used computers. In Anderson, I saw the disappointment in the eyes of unemployed workers whose hopes for their children are nothing like the hope their own parents and grandparents had when they came north to Indiana a century ago to find work and lay the foundation for generations to come. On the campus of Indiana University-Purdue University Fort Wayne, I talked with college students who are fearful that their degrees will only get them as far as the unemployment line. And at the Economic Club of Indiana, I urged the state's business and political leaders to focus relentlessly on job creation and education as the keys to winning the future. We applauded efforts like the Flagship Enterprise Center in Anderson for its commitment to growing small and emerging businesses. And we urged citizens to make sure their elected officials, both local and national, hear directly from them about the need for jobs.

The CEOs of the affiliates served as hosts for my visit, and I want to extend a special thanks to Joseph Slash of the Indianapolis Urban League, Raymore of the Urban League of Madison County, Jonathan Ray of the Fort Wayne Urban League and Vanessa Allen of the Urban League of Northwest Indiana.

The National Urban League and our Indiana affiliates undertook this tour as part of our own year-long focus on jobs. Right now there are about 16 million people out of work and about 3.5 million job openings. There simply isn't enough work for everybody who wants work. We recognize the need to make difficult choices in these tough economic times. We know there will be cuts in defense and discretionary programs. But with so many Americans out of work we must not cut investments in people. That is the philosophy behind our 12-point jobs plan.

Our plan proposes needed investments in education, teen employment, direct job creation and training in broadband and green technologies to bring jobs back to struggling urban communities.

If we put those 16 million people back to work, they will be paying taxes which will in turn alleviate many of the budget problems facing cities, schools, states and the federal government. Instead of engaging in the over-reaching distraction of trying to eliminate collective bargaining, our message to the leaders of Indiana, Wisconsin and other cash-strapped states is clear: Keep your eyes on the prize. Issue number one is jobs. Issue number two is jobs. Issue number three is jobs.

To read our entire 12-point jobs plan, log on to http://www.nul.org/content/12-step-blueprint-jobs-plan.


---
Marc Morial
is the president and CEO of the
National Urban League
.