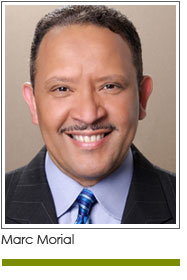 Over the last several years, the National Urban League has not hesitated to call out Wall Street or Washington for their complicity in the economic downturn or their reluctance to take the necessary steps to help small businesses and create jobs. But, last week, a big Wall Street investment firm and a majority in the House of Representatives took actions that deserve some praise.

On Wednesday at LaGuardia Community College, I joined Goldman Sachs CEO, Lloyd Blankfein, Warren Buffett and other members of a special Advisory Council, in handing out diplomas to the first 23 graduates of Goldman Sachs' 10,000 Small Businesses program. This is a $500 million initiative that will enhance the growth and job creation potential of 10,000 small businesses across the country by providing greater access to business education, mentoring, financial capital and business support services.

And on Thursday, the House of Representatives in a 237-187 vote joined the Senate in passing a Small Business Jobs Bill that had been debated for over a year. The bill gives new tax breaks to small businesses, increases Small Business Administration loan limits, and makes an additional $30 billion available to banks for loans to small businesses. President Obama is expected to sign the bill this week.

Both actions, by Goldman Sachs and the House of Representatives, though not nearly sufficient in themselves to turn the economy around, represent a rare moment of corporate and legislative responsibility in response to the worst economic crisis since the Great Depression.

Recognizing that the nation's economic recovery is dependent on small business owners, Goldman Sachs launched its 10,000 Small Businesses initiative last November. According to the Small Business Administration, America's small businesses generated 65 percent of new jobs over the past 17 years. The Goldman Sachs program seeks to address barriers to growth for small businesses through a combination of educational, mentoring and financial resources. The first 23 graduates of the 10,000 Small Businesses program spent 20 weeks mastering business skills like accounting, marketing, negotiation and HR management. The program's education component is being provided through a network of partners that includes LaGuardia Community College, the Initiative for a Competitive Inner City (ICIC), the National Urban League, Babson College, the American Association for Community Colleges and the Wharton School.

Goldman Sach's $500 million commitment includes $200 million to its educational partners to provide scholarships to underserved small business owners and a $300 million investment through a combination of lending and philanthropic support to Community Development Financial Institutions. There are currently 75 small business owners from the New York and Los Angeles areas enrolled in the education program. The plan is to reach 10,000 by 2015. Some of the members of the inaugural class of 23 graduates are already experiencing revenue growth or job creation since classes began last April - in fact 13 of the 23 have increased sales or hired employees. To find out more about the program log onto http://www.iamempowered.com.


---
Marc Morial
is the president and CEO of the
National Urban League
.