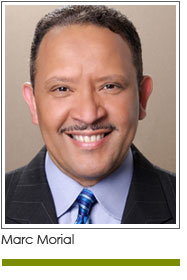 "If I have to sleep on your doorstep all night and day just to keep you from walking away…Let your friends laugh, even this I can stand, cause I wanna keep you anyway I can…"

From the Motown hit, "Ain't Too Proud to Beg" - the Temptations, 1966


Lebron fever is over, at least for now. Last week, unprecedented attention was paid to the decision of a 25-year-old athlete about where he will play pro basketball next year. For the record, Miami won, Cleveland lost and New York, Chicago and dozens of other hopeful cities were left out in the cold. But the Lebron James story is about more than a big money salary and winning and losing on the basketball court. For many of the athlete's urban suitors, it was a desperation jump-shot designed to do what the Congress has so far failed to do - create private sector jobs bill that will put Americans back to work.

With 15 million Americans unemployed and jobless rates in cities like New York, Cleveland and Chicago hovering near or above 10 percent, big city mayors are looking for any possible way to boost their sagging economies. New York Mayor Michael Bloomberg authorized an economic impact study which showed that having Lebron James play for the New York Knicks could pump nearly $60 million into the city's economy. Chicago estimated a $2.7 billion economic benefit if James had become a Chicago Bull. Miami, the Lebron James sweepstakes winner, reportedly stands to rake in $500-600 million annually as a result of the player donning a Heat uniform. Because of his potential to increase ticket sales, marketing revenue, and everything from hotel bookings to taxi rides, the Miami Herald called Lebron a one man "walking, talking, free-throw shooting, stimulus plan." Conversely, an analysis by the Cleveland Plain Dealer estimates a $200 million annual loss to the city as a result of Lebron's departure.

What all these numbers tell us is that cities are desperate for job creating remedies and many have decided they are not too proud to beg for help from anywhere, including a young basketball star. The sad irony is that while President Obama was traveling the country last week pleading for the restoration of unemployment benefits for millions of Americans, big city Mayors were pleading with a basketball star to help rescue their economies and Congress was taking a leisurely recess.

The National Urban League has been urging the Congress and the White House for months to enact an urgently needed, targeted jobs bill now. We delivered a six-point plan for Putting Americans Back to Work almost a year ago. The highlight of our plan is direct job creation to help the nation's hardest hit areas, including communities of color. The argument that job stimulation only adds to the deficit is both morally and practically bankrupt.

Research shows that the vast majority of the increase in the budget deficit is directly attributable to the recession. The collapse in income tax revenues - both individual and corporate - is compounded by a rise in spending for unemployment benefits and other assistance for the jobless. Put those people back to work, and we'll see a significant reduction in the deficit.

It's time for Congress to step to the line and take the winning shot for jobs. Lebron James may have come out ahead. But our economy is still falling behind.


---