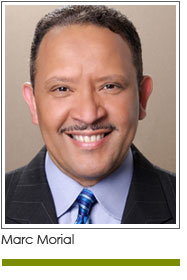 Dorothy Height credits the great American educator, Mary McLeod Bethune with igniting her passion for civil rights and women's rights. In fact, the title of Dr. Height's 2003 memoir, "Open Wide the Freedom Gates," was inspired by a phrase she often heard Bethune repeat. For 98 years, right up until her passing on April 20th, Dorothy Height worked tirelessly to fully pry open freedom gates for every American regardless of race, ethnicity or gender. The National Urban League and all of us have lost a great friend, mentor and moral touchstone.

Dorothy Height took her first steps on the road of empowerment in 1933, when, as a young woman, she became a civil rights worker with the United Christian Youth Movement of North America. A few years later, as an executive of the Harlem YWCA, she met Bethune, who was the founder and president of the National Council of Negro Women (NCNW). Bethune took Height under her wing, introduced her to Eleanor Roosevelt and recruited her as a NCNW volunteer.

Dr. Height was active in every stage of the modern civil rights and women's movements. In 1947 she was elected National President of Delta Sigma Theta Sorority and for a decade, led the organization into a new era of activism. She was elected president of NCNW in 1957 and served as its leader until 1998 when she became Chair and President Emerita.

Dr. Height's association with the National Urban League was long and distinguished. Her last public appearance was at the Greater Washington Urban League's gala on March 17. I count her friendship and counsel as one of the great blessings of my life. She collaborated with every Urban League president, beginning with Eugene K. Jones. She stood side-by-side with League President Whitney M. Young as they worked with Dr. King to map a strategy for the landmark civil rights challenges of the 1960's. And she was the only woman on the platform when Martin Luther King delivered his historic "I Have a Dream" speech.

In 1977, Dorothy Height joined with former National Urban League President, Vernon Jordan and other civil rights leaders to form the Black Leadership Forum. She received the Urban League's "Equal Opportunity Award" in 1982 and in 2003 was presented with the organization's "Legend Award." Dr. Height is also the recipient of the Presidential Medal of Freedom, the NAACP Spingarn Medal and the Congressional Gold Medal.

Dorothy Height was a woman of exceptional vision, intellect, energy and grace. She devoted her entire life to fighting injustice and empowering African American women. In describing the 2005 musical, "If This Hat Could Talk," which was based on her memoir, she said, "Many people who are part of this present generation are not being exposed to the people and the events that shaped this country. This is a call to action for the next generation to lead the masses and this present one to never cease to fight for what is right…"

We are all fortunate to have been exposed to the extraordinary life of Dorothy Height. Her legacy is a debt we can never repay. We can best honor her memory by striving everyday to live up to her example and never ceasing to fight for what is right.


---
Marc Morial
is the CEO and president of the
National Urban League
.