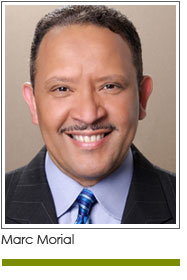 "You've got to believe that tomorrow somehow can be and will be better than today." Dr. Benjamin L. Hooks

The National Urban League joins the nation in mourning the passing of civil rights pioneer, Benjamin Hooks. A recipient of the Presidential Medal of Freedom in 2007, Dr. Hooks was one of the nation's most revered champions of racial reconciliation. He served as Executive Director and CEO of the NAACP for 15 years, from 1977-1992. During his tenure, he revived the organization's influence, and worked closely with National Urban League past presidents Vernon E. Jordon, Jr., and John E. Jacob to form a cooperative partnership that has grown and strengthened over the years." In the words of current NAACP President and CEO, Benjamin Todd Jealous, Dr. Hooks "was simply the greatest living person to have served as Executive Director and CEO of the NAACP."

Born in Memphis, Tennessee in 1925, Dr. Hooks' life spanned much of the modern day African American struggle - from the darkest days of Jim Crow segregation to the historic breakthrough of America's first Black President. Many of the rights we take for granted today were made possible by the courage and tenacity of Ben Hooks and others of his generation who devoted their lives to the relentless pursuit of equality and justice for all.

Dr. Hooks pursued that mission wherever he went - as a soldier, lawyer, judge, preacher, teacher, FCC commissioner, and civil rights leader. As a Sergeant in World War II, assigned to guard European prisoners of war, he suffered the indignity of being refused service at "whites only" restaurants, while his prisoners were allowed to eat. After leaving the military, he pursued a career in law. He graduated from Howard University in 1944 and, unable to obtain admittance to law school in Memphis, enrolled at the DePaul University Law School in Chicago, where he earned his law degree in 1948.

As an ordained minister, Dr. Hooks also preached his message of racial equality from pulpits in Memphis and Detroit. And he was a participant in numerous NAACP-sponsored protests, sit-ins and boycotts. In 1965, he became the first African American criminal court judge in the State of Tennessee.

In 1972, President Nixon appointed him the first African American member of the Federal Communications Commission (FCC), where he fought tirelessly to increase African American presence, employment and ownership in the broadcast industry. In his later years, he served as Chairman of the National Civil Rights Museum and established the Benjamin L. Hooks Institute for Social Change at the University of Memphis.

As the National Urban League begins its second century, we are inspired by the life, works and words of Dr. Hooks, who once said, "The civil rights movement is not dead. If anyone thinks that we are going to stop agitating, they had better think again. If anyone thinks that we are going to stop litigating, they had better close up the courts. If anyone thinks that we are not going to demonstrate and protest, they had better roll up the sidewalks."

Dr. Benjamin Hooks was a giant of the civil rights movement. Our thoughts and prayers go out to his wife of nearly 60 years, Frances, and their daughter, Patricia Gray.


---
Marc Morial
is the president and CEO of the
National Urban League
.