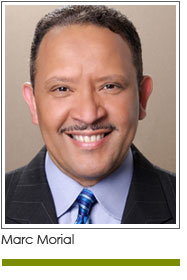 This week, the National Urban League will join the Congressional Black Caucus (CBC) in a "jobs surge" hearing on Capitol Hill to listen directly to some of the more than 15 million Americans, a disproportionate number of whom are African American and Hispanic, who are struggling to survive in the wake of the worst economic crisis since the Great Depression.

Washington's political leaders were quick to respond with drastic "troop surges" when things appeared to be going badly in the wars in Iraq and Afghanistan. For months, the National Urban League, the Congressional Black Caucus (CBC) and other civil rights leaders have been calling for a similar "jobs surge," to turn the tide on the unemployment crisis that has been especially damaging to Black America. Unemployment among African Americans is 15.8% and 42% for African American teens as we approach the summer months. Government must act now because many Americans can no longer wait while Washington drags its feet and offers up lukewarm solutions to this burning crisis.

As I have said before, the recently passed $15 billion jobs bill falls woefully short of what is needed to put substantial numbers of Americans back to work. The CBC agrees, and most of its members voted against the measure. We believe that instead of what really amounts to a tax bill that largely benefits small businesses, we need a real jobs bill, containing a combination of direct job creation, workforce training, summer jobs for youth and other strategies that target our hardest hit communities. I carried that message directly to the White House in a February Oval Office meeting with President Obama.

Our communities are reeling from this crisis. That's why I was pleased to accept the CBC's invitation to participate in this week's "jobs surge" hearing. I have asked citizens who can't attend Wednesday's hearing, to share their Great Recession stories by sending a personal message via email to mystory@iamempowered.com or posting a video on our YouTube Channel at http://www.youtube.com/user/IAmEmpoweredVideo. We will try to have as many of your stories heard as possible.

The "Jobs Surge" Congressional hearing occurs one week before the National Urban League takes its relentless push for jobs and empowerment directly to Capitol Hill at our Centennial Legislative Policy Conference. This two-day summit, March 23-25, will provide an opportunity for Urban League officials and volunteers from our more than 100 affiliates to talk directly with Senators and Representatives about the pressing issues affecting the communities we serve - chief among them, the unemployment crisis. During the Conference, we will also release the 2010 edition of our landmark annual publication, The State of Black America.

After 100 years as a leading champion of equal opportunity and empowerment, the National Urban League is more determined than ever to ensure that your voice is heard. To take our empowerment pledge and to find out more, visit www.iamempowered.com.


---
Marc Morial is the president & CEO of the
National Urban League
.