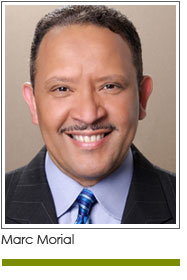 Last week, while Washington, DC was experiencing record-breaking blizzard conditions, I joined NAACP President, Benjamin Jealous and National Action Network President, Al Sharpton for a frank White House discussion with President Obama about how best to end the nation's historic blizzard of unemployment that has been especially devastating to urban and African American communities. Dorothy Height, the 97-year-old Chair of the National Council of Negro Women was also invited, but was unable to attend because of the weather.

As leading representatives of the civil rights community, Jealous, Sharpton and I used the meeting to focus more Congressional and White House attention on the worsening jobs outlook in our communities. Even as the nation saw a small downturn in unemployment last month, from 10 percent to 9.7 percent, African American joblessness rose to an astounding 16.5 percent, almost double the 8.7 percent rate for whites. The Hispanic unemployment rate of 12.6 percent is also unacceptably high. Clearly, the great recession has had a disproportionately negative impact on communities of color.

In our meeting, the President was keenly sensitive to the challenges facing the most vulnerable in our society. My colleagues and I made it clear that this calls for a jobs initiative targeted to urban America and communities where unemployment is highest. That, of course, includes many of our major cities where unemployment among African American men surpasses 20 percent.

The President and all of us in the meeting agreed that the best hope for improving the unemployment picture in our communities lies with current Congressional efforts to pass a Jobs Bill which should be the first order of business when the Senate returns from its recess next week. As I have said many times, Congress must add more targeted provisions to the jobs bill, including a stronger focus on job training, tax incentives for job creation, extension of unemployment benefits and direct public sector jobs. Special attention must be paid to our cities, which are the indispensable economic engines of our economy. Unemployment has reached depression-era levels in many of our communities. Stemming this rising tide of joblessness must not be held hostage to partisan bickering.

At the urging of a growing chorus of impatient voices, including many in the civil rights community, the President has made job creation his number one priority. While we will continue to push him to stay focused on creating jobs and expanding opportunity where the need is greatest, I for one, remain convinced that President Obama is moving the country in the right direction. His firm leadership over the last year, including the passage of a $787 billion stimulus package, has staved off a greater catastrophe. African American citizens also continue to express overwhelming support for the President. I came away from last week's White House meeting convinced that our support is well founded. Confronted, upon taking office, with some of the most difficult challenges any President has ever faced, President Obama has made remarkable progress. There is every reason to expect that progress to continue.


---