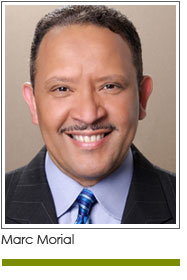 "Our greatest glory is not in never failing, but in rising every time we fall." Confucius

The National Urban League's commitment to paving a path to empowerment for African Americans recently led us half-way around the world to the People's Republic of China. From January 30 to February 4, in cooperation with Los Angeles Urban League President and CEO, Blair Taylor and a delegation of more than 40 prominent African Americans, I led a first-of-its- kind trade and cultural exchange mission to Beijing, China. We were hosted by Tung Chee-hwa, founding chairman of the China-United States Exchange Foundation.

The mission quickly produced positive results. During our discussions with the Ministry of Education, Chinese officials agreed to establish the first Confucius Institute at a Historically Black College and University (HBCU) in the United States. The Confucius Institute, named for the famous Chinese philosopher, is devoted to promoting friendly relationships with other countries through an enhanced understanding of Chinese language and culture among world Chinese learners. The program currently exists at more than 350 institutions worldwide. Tentative plans call for making Xavier University in New Orleans its first HBCU home.

The student/teacher exchange program would be developed by National Urban League affiliates that have established relationships with schools in urban communities. For example, the Greater Pittsburgh Urban League has an accredited K-5 charter school that emphasizes the integration of math and science with computer technology. The Los Angeles Urban League is working with Crenshaw High School in an exchange program where its students and Chinese students write letters to each other. These programs could form the basis of the new student/teacher exchange program and be expanded through the use of technology.

We had high hopes for reaching concrete agreements during our trip to China, and we were extremely delighted that our counterparts were just as eager to produce results. Both of the education commitments offer a wonderful opportunity for African American and Chinese students and teachers to experience each other's language and culture. They will also be helpful in the continuing effort to strengthen ties between China and the United States.

These agreements also set the stage for continuing dialogue between the National Urban League and Chinese officials. As we explore other areas of common interest, we see the potential of bringing Chinese investment to the African American community in areas such as banking and finance, industry and manufacturing, import-export, real estate, culture and tourism, and the public sector. In particular, we hope to partner with the Chinese to drive urban development and renewal, update inner-city infrastructure and secure investment and financing for business and entrepreneurship, while creating jobs and affordable housing. We are determined to make the 100th anniversary of the National Urban League, a year of both celebration and accomplishment. The achievements of our initial visit to China demonstrate that we are moving in the right direction.

Lao Tzu, another great Chinese philosopher once said, "The journey of a thousand miles begins with a single step." Our mission to China was the first step in what we hope will be a long and fruitful journey of empowerment for the African American community.


---
Marc Morial is the president & CEO of the
National Urban League
.