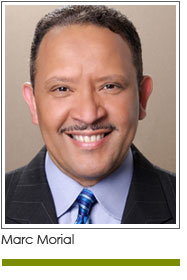 The city of New York, the village of Harlem, and the nation lost a true American visionary with the passing of Percy Ellis Sutton on December 26th.

Born on November 24, 1920 in San Antonio, Texas, Percy Sutton worked his way through hardship, two wars and decades of discrimination to become one of the nation's most influential African American political, civil rights and business leaders. His remarkable life personifies the African American journey from oppression to empowerment in the 20th century.

Percy was the son of a former slave who himself went on to become a high school principal and entrepreneur. Samuel Johnson Sutton made sure that every one of his 12 surviving children, including his youngest, Percy, attended college. The fire of activism was lit in Percy at the age of 13 when he was beaten by a policeman while passing out NAACP fliers in a white neighborhood. In spite of such treatment, Sutton tried to enlist for World War II in Texas, but was rebuffed because of his color. Instead, he enlisted in New York and went on to earn combat medals as one of the historic Tuskegee Airmen. He also served in the Korean War.

Following his military service, Sutton earned a law degree from Brooklyn Law School. Opening the doors to his own Harlem law firm in 1953, he established a reputation as a fierce defender of civil rights activists, including his most famous client, Malcolm X. As a 1960s Freedom Rider in non-violent protests against Jim Crow segregation, Sutton was arrested in Mississippi and Alabama.

Sutton's political career grew from his base in Harlem, where, in the 1960s, he served as a New York State Assemblyman and formed a fabled alliance with New York's first Black Mayor, David Dinkins; Harlem Congressman Charles Rangel and New York Secretary of State, Basil Paterson, whose son is now New York's governor. From 1966 to 1977, Sutton served the longest tenure to date as Manhattan Borough President and held the title as the highest-ranking African American elected official in New York City.

After a failed bid for mayor in 1977, Sutton continued to support and mentor numerous Black political leaders, including Rangel, Dinkins, David Paterson, Al Sharpton and Jesse Jackson. He also continued to build the Inner City Broadcasting Corporation (ICBC), which he founded in 1971. ICBC is the parent company of some 18 urban-formatted radio stations across the country, including WBLS, one of New York's and the nation's leading Black radio stations. Sutton even found time to serve two terms as President of the New York branch of the NAACP and to rescue Harlem's historic Apollo Theater from extinction when he purchased it and began its revival in 1981. In 1987, Sutton was awarded the NAACP Spingarn Medal for outstanding achievement by an African American.

Percy Ellis Sutton, affectionately known in the neighborhoods around Manhattan's 125th Street as "The Chairman," was an iconic Harlem visionary who left this world much better than he found it.

The National Urban League mourns his loss. Our prayers are with his family.


---