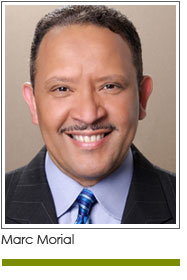 As we make our lists and check them twice this holiday season, we are reminded that on April 1, many of the essential "gifts" of democracy will be determined by our participation in the 2010 Census. A complete and accurate census count will ensure that your state and community get their fair share of Congressional seats, community services and the distribution of more than $400 billion in federal funding. But, the undercounting of African Americans in recent years has short-changed hard-pressed communities of color. That is why it is so important for every citizen to participate in the census and for the government to take specific actions to remedy the under-counting of African Americans. And it was the reason I convened a meeting with Commerce Secretary Gary Locke and a broad coalition of civil rights leaders last Wednesday in Washington.

As chair of the 2010 Census Advisory Committee, I called the meeting to hear the Department's plans for tackling the issue of African American undercounting and to share our ideas for partnering with the Census Bureau in a coordinated outreach and mobilization campaign to ensure a full count. Other meeting participants included Benjamin Jealous of the NAACP, Rev. Al Sharpton of the National Action Network, Rev. Jesse Jackson of the Rainbow/PUSH Coalition, U.S. Rep. Barbara Lee (D-CA), U.S. Rep. Lacy Clay Jr. (D-MO), Melanie Campbell of the National Coalition on Black Civic Participation, Danny Bakewell of the National Newspapers Publishers Association, John Payton of the NAACP Legal Defense Fund and others.

As the Black community continues to suffer disproportionately from job losses, foreclosures and the other ravages of the great recession, it is vitally important that we not have a repeat of the 2000 census when about 1.3 million people were over-counted, mostly because of duplicate counts of Whites with multiple homes, while more than 4 million Blacks and Hispanics were never counted.

An accurate census count is an essential tool of public policy and citizen empowerment. It helps determine how many federal dollars are allocated for local schools, hospitals, health care, public transportation, senior centers, job training and a host of other vital community services. It also determines the number of Congressional representatives each state is allowed.

Our coalition recommends a greater emphasis on advertising in the Black community and a stronger partnership with community-based organizations to get more citizens to fill out their census forms. It should be noted that federal law protects the personal information you share.

The more than 1.2 million African Americans in prisons across the country also represent a built-in undercount. To remedy that problem, we are recommending a change in Census Bureau policy to allow prison inmates to be included in the counts of their hometowns, not where they are being incarcerated.

In our meeting, Secretary Locke acknowledged that "African Americans and other minority communities have been consistently undercounted in past censuses…" I am encouraged by his willingness to work with us to fix the problem and also by the strength of the coalition that will stay focused on this issue right up until Census Day.


---