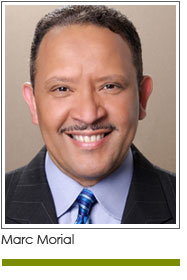 Last week, representatives from some 192 countries convened in Copenhagen to try to reach an agreement on worldwide reductions in greenhouse gases to mitigate the devastating effects of global climate change.

At the same time President Obama, prodded by the National Urban League and others, announced new measures to tackle record unemployment that has reached epidemic proportions across America, especially in urban communities of color. What do these two issues have in common? It is becoming increasingly clear that the "green movement" is not only critical to the health of our planet and its people; it can be an engine of economic recovery and growth that brings desperately needed jobs and development to our cities.

That was the message of the National Urban League's Green Jobs Summit held in Washington, DC on December 3rd. Under the auspices of our new Council of Green Advisors, headed by Walter A. Bell, chairman of Swiss Re America Holding Corporation, we brought together top corporate executives as well as experts in the green and renewable industry movements and other advocacy leaders to begin formulating specific recommendations to ensure that urban America has a central role in the Green Jobs/Clean Energy revolution.

Many in our communities have not yet made the connection between the greening of America and jobs. That is why our initial focus will be on educating and training communities for job opportunities designed to foster a cleaner environment and reduce energy costs.

This includes the construction and installation of wind turbines and solar panels, as well as the retrofitting and weatherizing of homes and businesses.

"Green jobs" is also a major component of the National Urban League's six-point plan for Putting Americans Back to Work, as outlined in a letter I recently sent to National Economic Council director Larry Summers and Congressional leaders. We are calling for the creation of Green Empowerment Zones in areas where at least 50 percent of the population has an unemployment rate that is higher than the state average. Manufacturers of solar panels and wind turbines that open plants in high unemployment areas will, for a period of three years, be eligible for a zero federal income tax and a zero capital gains tax under the condition that they hire and retain, for a minimum of three years, at least half of their workforce from the local area.

The National Urban League's more than 100 affiliates are on the frontlines of the job crisis every day and we see the devastating effect the 15.6 percent Black unemployment rate is having on the families and communities we serve. That's why in addition to a focus on green jobs we are calling on the federal government to make targeted, temporary and timely investments to create 3 million new jobs now.

We are also seeking an increase in job training for the chronically unemployed, greater access to credit for small businesses and additional counseling relief for those caught in the backlog of the foreclosure process. We bailed out Wall Street. Now it's time to bring relief to Main Street and urban America. Green Jobs must be a part of the solution.


---
Marc Morial
is the President and CEO of the
National Urban League
.