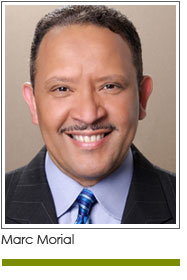 The late Bayard Rustin was one of the few openly gay African American leaders of the civil rights movement of the 1960s. He counseled Martin Luther King, Jr. on the philosophy of non-violence and was one of the main organizers of Dr. King's famous1963 March on Washington. There were attempts, both by advocates and opponents of the movement, to marginalize Rustin's influence because of his sexual orientation, and through the years, some in our community have objected to including gay rights as a civil right. Fortunately, that divide is closing as more of us embrace Dr. King's wisdom: "Injustice anywhere is a threat to justice everywhere."

Last week, with the signing of the Matthew Shepard and James Byrd, Jr. Hate Crimes Prevention Act, the injustice of hate crimes motivated by gender, sexual orientation, gender identity and disability was finally given federal recognition and protection along with crimes motivated by race, color, religion or national origin. We applaud the passage of this long-overdue legislation and believe it takes us one step closer to full civil rights protections for all Americans.

The new law is named for Matthew Shepard, a young, white college student who was brutally murdered in 1998 because he was perceived to be gay and for James Byrd, Jr., an African American man who, also in 1998, was tied to a truck and dragged to his death by white supremacists in Jasper, Texas. There were no hate crimes protections in place at the time to aid in the prosecutions of either of these heinous crimes.

The new legislation, for the first time, extends hate-crime protection to the lesbian, gay, bisexual and transgender (LGBT) and disability communities. It allows federal prosecutors to try violent hate cases of all types if local jurisdictions are unable or unwilling to do so. It provides much-needed funding to help state and local governments investigate and prosecute hate crimes; and it expands the designation of a hate crime beyond violent acts committed while the victim is engaged in a federally protected activity like voting or going to school.

The FBI reports that of the roughly 8,000 hate crimes in the United States annually, more than half are racially motivated. But crimes based on sexual orientation or gender identity have steadily increased, with more than 12,000 reported over the last 10 years.

At the White House signing ceremony on October 28th, President Obama praised the extension of hate crime protections to the LGBT and disability communities. He said, "No one in America should ever be afraid to walk down the street holding the hands of the person they love. No one in America should be forced to look over their shoulder because of who they are or because they have a disability."

We agree. It is a sad fact that hate crimes are on the rise in America. This new legislation provides new tools to help us confront them whenever and wherever they occur.


---
Marc Morial
is the President & CEO of the
National Urban League