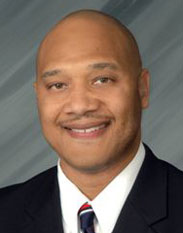 Hon. Andre Carson
Indiana, 7th District
U.S. House of Representatives
2455 Rayburn House Office Building
Washington, DC 20515
Ph: 202-225-4011
Fx: 202-225-5633
http://carson.house.gov

Julia M. Carson Government Center
#300
300 E. Fall Creek Parkway N Drive
Indianapolis, IN 46205
Ph: 317-283-6516
Fx: 317-283-6567





Congressman André Carson is a 33-year-old native of Indianapolis, Indiana. André served as a member of the Indianapolis City-County Council before winning a special election on March 11, 2008, to become the Congressman for the 7th District of Indiana. Raised and mentored by his grandmother, Congresswoman Julia Carson, André learned from a young age the values of compassion, integrity and determination. Growing up in a rough area of Indianapolis, a young André passed by drug dealers and gang members on his way to school. These experiences shaped André and are responsible for his commitment to improving our schools, making our neighborhoods safer, expanding educational opportunities and giving all of our children the help they need to become successful adults.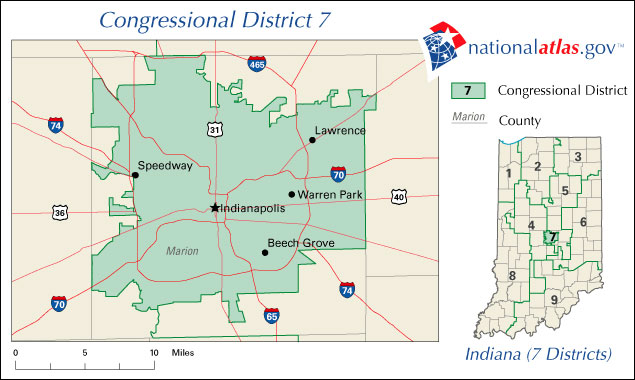 Enlarge Map
André is a graduate of Arsenal Technical High School, where his passions for law enforcement and public service first took hold. André went on to obtain a Bachelors degree in Criminal Justice Management from Concordia University-Wisconsin and a Masters in Business Management from Indiana Wesleyan University.
André's law enforcement background consists of nearly a full decade of public service. He served as a Local Board Investigative Officer for the Indiana State Excise Police for nine years. Then, in 2006, André was detailed to the Indiana Department of Homeland Security's Intelligence Fusion Center. There he worked in an anti-terrorism unit to provide Indianapolis and all of Indiana with the necessary security measures to ensure our safety.
André believes that community involvement makes Indianapolis a world-class city and has worked with organizations that share this commitment. As a member of the Indy Parks Kennedy-King Park Advisory Board, André has demonstrated his dedication to providing safe, clean and quality parks for our community. André also served as a board member for the Citizens Neighborhood Coalition, which is an umbrella organization representing all neighborhood organizations within its boundaries.
Congressman Carson currently serves on the prestigious Financial Services Committee, which oversees all components of the nation's housing and financial services sectors including banking, insurance, real estate, public and assisted housing, and securities. Congressman Carson will use his position on the committee and as a representative in the House of Representatives to fight for the needs of the Indiana's 7th Congressional District. His ambitious agenda includes working to create economic opportunity for Hoosiers, pushing forward comprehensive affordable healthcare legislation, working to responsibly bring an end to the war in Iraq and to restore America's role as a respected global leader.
He is married to Mariama Carson, an award winning professional educator in the Pike Township Schools. They are the proud parents of a one year-old daughter, Salimah, and have lived in the Fall Creek Place neighborhood for five years.
Source: U.S. House of Representatives
The 7th Congressional District includes Indianapolis, home of the Indiana Black Expo and the state's Pacers and Colts professional sports franchises, and Marion County. It also includes Speedway, home of the Indianapolis 500. The district is just 30 % Black and 63 percent white, with a poverty rate of 13.5 percent. The median income is $36,552.