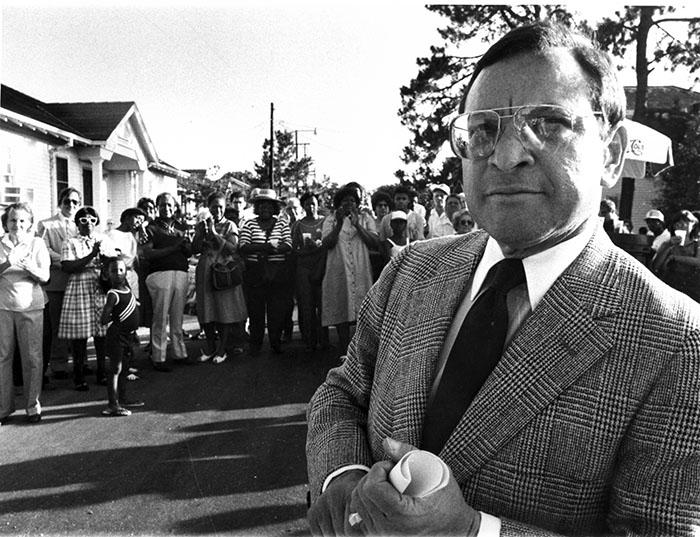 Today in Black History: Ernest Nathan "Dutch" Morial, the first Black elected mayor of New Orleans, was born in New Orleans, Louisiana.

The New York Times

National

Columbus Day Has Drawn Protests Almost From Day 1

Holding Prosecutors Accountable Could Get Harder

Trump Risks Inciting 'World War III,' G.O.P. Senator Says

Analysis: Corker Has Others in G.O.P. Nodding in Agreement

Editorial: The Republican's Guide to Presidential Etiquette

Trump's List of Demands for 'Dreamer' Deal Includes Wall

Blow: Attacking Media as Distraction

E.P.A. Says It Will Repeal Signature Obama Climate Plan

Google Finds Russia Bought Ads to Interfere in Election


Local

Politicians With Puerto Rican Roots Challenge Trump in Push for Aid

For the Disabled, New York's Sidewalks Are an Obstacle Course

New York Towns' New Deal: We'll Make Your Signs, You Sweep Our Streets


Philly.com

What soda tax showdown in Chicago area might mean for Philly

Mold found at second South Jersey school; parents outraged

Pianist Lang Lang gives nearly $1m for piano education in Philly

A temple student is interviewing 100 women about their dads. Here's what she learned


The Detroit Free Press

Armour: The real mockery of national anthem was by Vice President Mike Pence

'Etue is unfit': Clergy, activist to stage MSP protest in Highland Park

Manslaughter charge sought against top Michigan medical executive in Flint water crisis

Top Snyder aide: Governor knew about Legionnaires' in Flint earlier than he claimed


The Star-Ledger

Murphy, Guadagno set to spar in first N.J. governor debate

'This is like gangland': Teen shot to death in Union neighborhood

2 charged after fatal shooting of 19-year-old in Union

MAP: See how Trump's tax plan would hurt your town's residents


The Cleveland Plain Dealer

Obesity stalling progress in fight against cancer, CDC says

Jackson-Reed mayoral matchup confirmed for Cleveland; City Council lineup for November election also set


The Chicago Tribune

Nearly 3,000 people shot in Chicago so far this year

Another Michigan official to face manslaughter charge in Flint water crisis

Emanuel's podcast loosens up tightly scripted mayor


The Los Angeles Times

Sen. Dianne Feinstein says she'll run again: 'There's still so much work left to do'

Californians will get more information on what's driving prescription drug prices under law signed by governor

As the immigration debate ramps up, here are the leading bills already pending in Congress


The Washington Post

Trump's border wall is a nonstarter for Democrats. He knows that.

Hello, Iowa! The 2020 election is three years away. But Democrats are itching to start the race now.

Ivana Trump says she's the 'first lady.' Melania Trump's office calls the comments 'attention-seeking and self-serving noise.'

For some foreign diplomats, Trump's White House is a troubling enigma

EPA chief tells Kentucky miners he will repeal power rule: 'The war against coal is over'

Trump's tirade against Corker encapsulates 5 reasons why he has failed at governing

Michael Jordan donates $7 million to fund health clinics in Charlotte's at-risk areas

Transgender students prevail with school policy in Maryland

Montgomery council committee approves extending timeline for $15 wage

Pence plans to rally for Gillespie in Va. governor's race, as new poll finds him trailing Northam

Charlottesville white supremacist rally in August drew attendees from 35 states, study finds

'We still live in its long shadows': a war, race, past and present tense


USA Today

ESPN suspends Jemele Hill for 2 weeks for 'second violation' of company's social media policy








Some clips might require your registering for the paper's website. Sites like The Chicago Tribune are free while The New York Times and others have a pay wall that will allow you to see a specific number of articles per month for free and require a paid subscription for further reading.