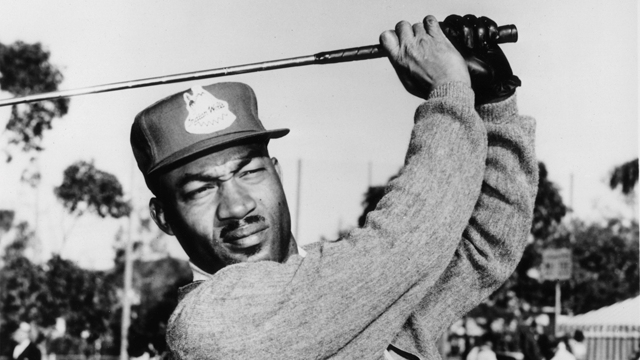 Today in Black America: Charlie Sifford becomes the first Black golfer to win a professional tournament when he captures the Long Beach Open in 1957.

The New York Times

National

Senate G.O.P. Tax Bill Delays Trump's Prized Corporate Cut

A Middle-Class Tax Cut? It Depends Who and Where You Are

G.O.P. Candidate Is Accused of Improper Conduct With Minor

In Vietnam, Trump Makes a Friendlier American Landing

Video of a Massacre Raises a Question: Who Should See It?

Video Shows Georgia Teacher Threatening Student: That's How 'You Get Shot'

Violence Against Transgender People Is on the Rise, Advocates Say


Local

David Dinkins Doesn't Think He Failed. He Might Be Right.

Man Convicted of Murder in New York Police Officer's Death

Post Office Fails to Deliver on Time, and DACA Applications Get Rejected

Brooklyn Diocese Names 8 Priests Who Sexually Abused Children


The Star-Ledger

He's sexist and fondles Confederate flags. She got mad and took his job. | Editorial

Outgoing N.J. senator and Christie friend gets job on Horizon board

Princeton peace coalition ramps up in age of Trump, national tragedies

Advocates demand county end immigration detention contract

GOP's Kean to Murphy: I'll trade you a minimum wage hike for income tax cut


Philly.com

Breaking down the key House, U.S. Senate races looming in Pa., NJ

Coalition calls for 'transformative' change in Krasner's 1st 100 days

In Philly's 'last death penalty case,' killer gets life sentence

Under accreditation threat, Cheyney to hire permanent president


The Detroit Free Press

Garbage tycoon Chuck Rizzo pleads guilty to bribery, faces 6-10 years

Michigan Rep. Tim Kelly out of running for federal post over offensive blog posts


The Chicago Tribune

Illinois' women senators declare solidarity with new caucus, then go opposite ways on wage bill

Employees want their job to matter, but meaning at work can be hard to find

Mavis Staples back on the freedom highway: 'It's like we have to start all over again'


The Cleveland Plain Dealer

Assessing President Donald Trump's first year: Editorial Board Roundtable

83 Ohio State University students accused of using app to share course answers

With Sherrod Brown and Rob Portman, the tax debate will get interesting for Ohioans

The selective patriotism of those who denigrate anthem protesters: Dave Lange (Opinion)


The Washington Post

As Roy Moore declines to step aside, a tale of two Republican parties emerges

Woman says Roy Moore initiated sexual encounter when she was 14, he was 32

The Fix: GOP's Roy Moore and Steve Bannon nightmare comes into focus

'I don't feel wealthy': The upper middle class is worried about paying for the tax plan

Fact Checker: Paul Ryan's repeated claim that 'everyone' will get a tax cut

Military jury convicts Marine drill instructor who targeted Muslims

Analysis: How Republican losses in Virginia could mean real trouble for the GOP in 2018

Latino Victory Fund, pilloried for truck ad, says Northam win is vindication


The Los Angeles Times

Trump voters disappointed by his presidency threaten the GOP

L.A. County ramps up effort to fight hepatitis A as cases among gay and bisexual men surge

L.A. prosecutors form special Hollywood sexual assault task force

Californians strongly oppose Trump — and 53% say state's members of Congress should 'never' work with him


USA Today

Nine differences between the House and Senate tax plans — and how they would affect you














Some clips might require your registering for the paper's website. Sites like The Chicago Tribune are free while The New York Times and others have a pay wall that will allow you to see a specific number of articles per month for free and require a paid subscription for further reading.