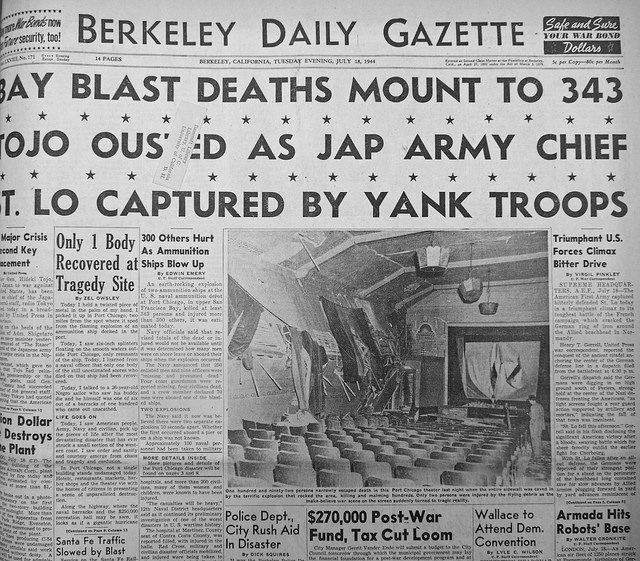 Today in Black History: The Port Chicago incident occurred in 1944 when Black Navy ammunition handlers were killed in a violent explosion at the California base.

The New York Times

National

Editorial: Smoking Marijuana While Black

States Keep Saying Yes to Marijuana Use. Now Comes the Federal No.

EDITORIAL: Save the Census

Top Jobs in Trump's Administration Are Mostly Vacant: Who's to Blame?

Trump Goes on Attack as Russia Revelations Appear to Take Toll

Fate of Health Bill Uncertain, a G.O.P. Leader Promises a Vote

Governors Give Chilly Reception to Health Bill Push

McCain's Surgery May Be More Serious Than Thought

Australian Woman Is Fatally Shot by Minneapolis Police

Pennsylvania Killer Recalled as Troubled and Getting Darker

Cost of California's Hot Economy: Severe Housing Crisis


Local

New York Schools for Off-Track Students May Face Stricter Rules

Cuomo's Office Ordered to Release Records Sought by Times in Graft Inquiry

Gus Trowbridge, Turned King's Integration Dream Into a School, Dies at 82


Philly.com

What it will take for Trump's 'voter fraud' panel to get N.J. data: 65 cents

Philly NAACP vows to block Lynne Abraham from becoming interim DA

Opinion: Old grudge fueling NAACP opposition to Lynne Abraham?

Violent night in Philly: 4 shot in Center City, 4 killed citywide


The Star-Ledger

This may be the last action of Christie's presidential campaign

Feds reportedly probe health care spending in Jersey Shore city

N.J.'s 25 highest paid superintendents, up to $297K


The Detroit Free Press

Kym Worthy adding staff to focus on possible wrongful convictions

Detroit '67: 1966 student walkout at Northern a sign of things to come

Michigan marijuana campaign brings together activists, moneyed investors, tobacco dealers

Detroit Medical Center blames data breach on outside agency


The Chicago Tribune

How did Terrance Jenkins die? Guards, prisoners disagree on details in inmate's death

Surburbia is left scrambling as firms relocate to big cities

Can CTA rail workers strike? They can threaten

Detroit at crossroads 50 years after riots devastated city


The Cleveland Plain Dealer

Cleveland Councilman Jeff Johnson's mayoral candidacy challenged in Ohio Supreme Court

Joe Jones' expungement clears way for competitive Cleveland City Council race in Ward 1

The road for Republicans' plan to overhaul the Affordable Care Act runs through Ohio

Ohio nursing homes fear losing $800 million in Medicaid funding in healthcare bill: A Critical Choice

John Kasich calls Senate's revised healthcare bill 'unacceptable': Ohio Politics Roundup


The Los Angeles Times

An overdose, a young companion, drug-fueled parties: The secret life of then-USC med school dean

Mixed message from Trump on DACA sparks frustration from Dreamers as well as critics of illegal immigration


The Washington Post

Support for Trump grows more tepid and opposition is increasingly inflamed

What Americans love and hate about Trump's presidency so far

Trump's lawyer insists nothing 'nefarious' in Trump Jr. Russia meeting

Republican holdouts on Senate health bill energized by delay of vote

Sens. Collins, Paul criticize revised Senate health-care bill

Davidson: Job Corps program hit on student safety problems, despite successes

Jeff Sessions used our research to claim that sanctuary cities have more crime. He's wrong.

Bernie Sanders tells his Maryland faithful to back Ben Jealous for governor

'How far can you run?' says sister of slain woman about suspect on the lam

As gentrification creeps east, D.C. nonprofits help residents of modest means stake their place through homeownership

Trump wants to spend millions more on school vouchers. But what's happened to the millions already spent?

Women's March organizers protest the NRA before 17-mile march to the Justice Department


USA Today

Analysis: At the six-month milestone, can Trump turn around his struggling presidency?




Some clips might require your registering for the paper's website. Sites like The Chicago Tribune are free while The New York Times and others have a pay wall that will allow you to see a specific number of articles per month for free and require a paid subscription for further reading.