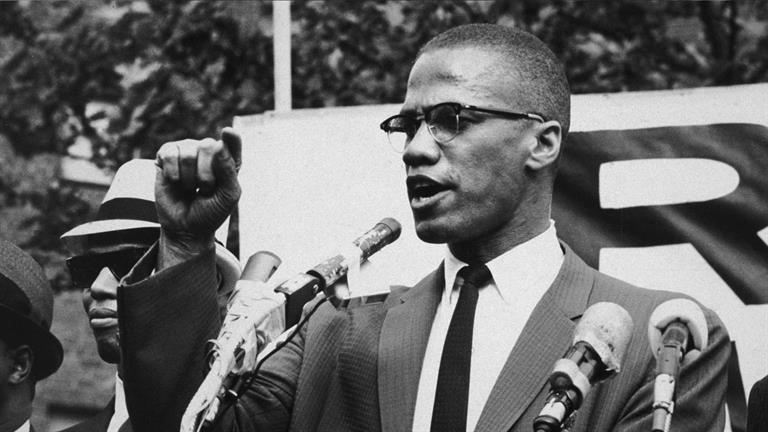 Today in Black History: Black nationalist El-Hajj Malik El-Shabazz (Malcolm X) was born in Omaha, Nebraska on this date in 1925.

The New York Times

National

Outreach From President Made Comey Uneasy, a Friend Says

Decision to Fire Comey Was Made Before Justice Memo

Investigation Could Linger Over Trump's Presidency

Fact Check: Trump Is Contradictory on Comey and Misleading on Russia

Lieberman Is a Finalist for F.B.I. Director, Trump Says

Advisers Urge Trump to Hire Outside Lawyer in Russia Inquiry

EDITORIAL: Trumpcare Is Hurting Trump Country

Tips for Leaders Meeting Trump: Keep It Short and Give Him a Win

'Saturday Night Live': The Most Memorable Moments This Season

5 Years, or 20? How Sessions' Get-Tough Order Would Extend Prison Stays

Black Judge Refuses to Recuse Himself in Shooting by White Officer


Local

Anthony Weiner to Plead Guilty to Resolve Sexting Inquiry

Acrimony and Accusations in G.O.P. Debate for New Jersey Governor

A Basquiat Sells for 'Mind-Blowing' $110.5 Million at Auction


The Star-Ledger

Powerful N.J. congressman just found himself in a more competitive race

GOP governor candidates argue over N.J. property taxes in final debate

Horizon leader: 'I'm not a greedy health care CEO' as Christie claims, report says


Philly.com

Joe Biden slams Hillary Clinton: 'I never thought she was a great candidate'

Fox News host Bob Beckel fired over insensitive racial remark

Philly cop will lose job for allegedly shooting at car, hitting Temple Hospital window

Judge tosses Lynne Abraham's suit to boot DA Seth Williams from office

Delinquent homeowners could have tax debt deferred under Council plan


The Detroit Free Press

Regional transit's big question: When to go back to voters?

Michigan OKs form of marijuana, prevailing wage petitions


The Cleveland Plain Dealer

Sen. Sherrod Brown on Joe Lieberman for FBI: No way

Cuyahoga County to pay Ernst & Young $150,000 to help fix economic development loan program problems

Home sweet home rule: See how Ohio state legislators have trampled the rights of northern Ohio cities

Legal Aid Society sues Cleveland on behalf of toddler, asks court to make city follow lead poisoning laws


The Chicago Tribune

College prep courses at many Illinois public schools not preparing kids for college, Tribune analysis finds

Mayor unveils $389M borrowing plan for CPS to finish school year, pensions

Search the data: How hard are the classes at your high school?

Health insurers, state officials say Trump is undermining Obamacare, pushing up rates


The Los Angeles Times

Border Patrol detains 22-year-old Cal State L.A. student activist; her lawyer says it is retaliation

L.A. teachers union faces tough questions in wake of charter election wins

California and 14 other states take legal action to preserve Obamacare cost-sharing


The Washington Post

Rosenstein briefs House members in second visit to Capitol Hill

Comey prepared extensively for his conversations with Trump

New polling shows a sharp increase in skepticism about Trump's relationship to Russia

Durbin: Trump's 'witch hunt' claims are 'outrageous'

Cummings: 'This is about the fight for the soul of our democracy'

McCarthy: 'No evidence' Comey asked Justice Department for more resources

Sen. Warren calls on graduating students to get involved in politics

What you need to know about special counsel's job

After 20 years, top of America's Most Challenging list totally transformed

Race between Democrats running for Virginia governor is neck-and-neck


USA Today

Retail bankruptcies are exploding; here are the sectors where it's happening

Former Congressman Anthony Weiner pleads guilty to sexting with minor

Driver in Times Square rampage charged with murder







Some clips might require your registering for the paper's website. Sites like The Chicago Tribune are free while The New York Times and others have a pay wall that will allow you to see a specific number of articles per month for free and require a paid subscription for further reading.