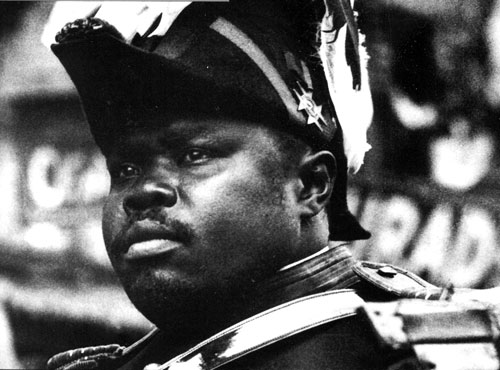 Today in Black History: Marcus Mosiah Garvey, Pan-Africanist, Black Nationalist and entrepreneur, was born in 1887 in St. Ann's Bay, Jamaica.

The New York Times

National

'The World We Live In': Black Voices on the Turmoil

Trump Opens Breach With Party, Military and Industry

Editorial: After Racist Rage, Statues Fall Quietly

The Confederate Symbols Being Removed

A New Resistance to Confederate Symbols

C.E.O.s Organize a Mass Defection After Trump Hedges

Charlottesville Victim Cannot Be Silenced, Mother Says

G.O.P. Fears Trump Left the Party in a Precarious Spot

G.O.P. May Be Stuck in a Relationship With Trump

Bannon Mocks Colleagues and 'Alt-Right' in Interview

A Trump Lawyer Echoes the Secessionist Rhetoric


Local

Cuomo Says Confederate Names on Streets Should Go

Befriend the Rich? De Blasio Would Sooner Tax Them


Philly.com

Accused Chester County road-rage killer set to appear in court Thursday

Thousands march down Broad Street for 'Philly Is Charlottesville' rally to condemn white supremacy

In the streets of Philadelphia, Trump creates a time for choosing

City judge asserts authority over Arch Street bones

Once a haven for Philly's black families, still a slice of Shore heaven


The Cleveland Plain Dealer

Cleveland City Council OKs Mayor Frank Jackson's $65-million plan to boost neighborhoods

Committee orders Akron federal Judge John Adams to undergo mental-health examination

Reshaping public corruption: How recent court decisions threw Jimmy Dimora a lifeline

Ohio teacher let son sell LSD, others use it in home, reports say

Hundreds attend Akron candlelight vigil for Charlottesville victims

Muslim-American comedian sues Ohio-based publisher of neo-Nazi website The Daily Stormer for libel


The Chicago Tribune

Hundreds rebuke racism with vigil, singing on University of Virginia campus

Silicon Valley escalates its war on white supremacy despite free speech concerns

As questions swirl around the country, Confederate monument stands on Chicago's South Side

Lawmakers decry 'racist' cartoon published by policy group with Rauner ties


The Star-Ledger

Where the jobs are: The biggest employers in all 21 N.J. counties

Why N.J. lawmaker who helped Trump just rejected the president

Teen allegedly beaten by Maplewood cops files federal suit

Trump's warped sense of history emboldens white nationalists | Editorial

This N.J. lawmaker just moved to censure Trump for his Charlottesville comments


The Los Angeles Times

A forgotten Washington state law forbids planning for a nuclear attack. That's a bit awkward these days

Billions in new spending for housing, water, parks and more could be on the 2018 ballot

California confronts its Confederate past as monuments are abruptly removed

Northern California pushes back as white nationalists plan rallies


The Washington Post

Editorial: Remember Heather Heyer

Perspective: Heather Heyer is part of a long tradition of white anti-racism activists

Trump has a long history of fostering racial divisions

Bannon says rivals are 'wetting themselves,' mocks white supremacists and contradicts Trump on N. Korea

The Daily 202: Trump has failed to offer moral leadership after Charlottesville

Mayors move quickly to avoid becoming the next Charlottesville

Hundreds gather on U-Va. campus to rally against white nationalism

Fact Checker: Contrary to Trump's claim, Charlottesville counterprotesters had permits

President's lawyer jumps into racial controversy by forwarding inflammatory email

Writer of racially charged email says he 'wanted to help' the president

Trump attacks Lindsey Graham as 'publicity-seeking,' endorses one of Jeff Flake's challengers

The day 30,000 white supremacists in KKK robes marched in the nation's capital

D.C.'s vaunted high school for the arts reopens — $100 million over budget

Maryland board's vote sets stage for Taney statue removal

Firm that projected massive job losses with Montgomery County minimum wage increase says it was wrong


USA Today

Dismayed by President Trump's Charlottesville comments, the White House struggles to move forward


Some clips might require your registering for the paper's website. Sites like The Chicago Tribune are free while The New York Times and others have a pay wall that will allow you to see a specific number of articles per month for free and require a paid subscription for further reading.